More Spider-Man After 'Spider-Man 3'
[Wednesday, August 30th, 2006]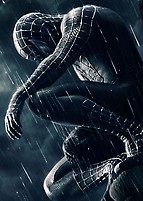 Kevin Feige, the new president of production for Marvel Studios, says that the next Spider-Man movie, Spider-Man 3, will not be the last in the Spider-Man franchise.

"There will be many more Spider-Man films to come," Feige told MTV. "We already have stacks of ideas for the next one because of the wealth of stories in the comics. We could be making Spider-Man movies for the next 20 years, based on the 50 years of Spider-Man history we have."

"When you're concentrating on one movie at a time, there's a beginning and a middle and an end to that process," Feige said. "We've been topping each one as they go, [and if that happens again,] that's the time for those discussions."

It is unclear whether Tobey Maguire and the rest of the cast will reprise their roles in future Spider-Man movies. Spider-Man 3 is currently scheduled for a May release.
More On 'The Amazing Spider-Man'...


E-Mail This Article » Share your comments on 'The Amazing Spider-Man'