Cool Fett 'Select Image'
[Friday, February 23rd, 2001]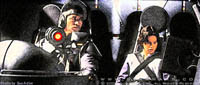 The official Star Wars website has posted its weekly Select Image, which this week features the father and son duo, Jango and Boba Fett in what seems to be the Slave I ship. As you may or may not know, but Boba Fett will be only 12 years old in Episode 2!
Check the image out for yourselves by click here.
More On 'Star Wars: Episode II - Attack of the Clones'...


E-Mail This Article » Share your comments on 'Star Wars: Episode II - Attack of the Clones'