First Look at Palpatine in Episode 2
[Thursday, March 8th, 2001]
The latest edition of Star Wars Insider will feature an interview with Ian McDiarmid (see picture below), according to the official site. The interview will talk about his evolving role as Supreme Chancellor Palpatine and will also feature exclusive pictures of how he will be seen in Episode 2.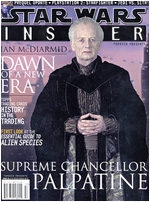 Star Wars Insider #53 ships to Fan Club members on March 16 and will be available on newsstands in April.
More On 'Star Wars: Episode II - Attack of the Clones'...


E-Mail This Article » Share your comments on 'Star Wars: Episode II - Attack of the Clones'