Hayden Talks Anakin Role
[Saturday, March 24th, 2001]
EW were able to talk with Hayden Christensen, who will be playing the role of Anakin Skywalker in 'Star Wars: Episode II'.
Talking about the costume he dons for 'Episode II', he said, "When you put the belt on, there's a little place where your lightsaber clicks in,", "It's just like, 'Holy s---!'"

Christensen, who was virtually an unknown, until he met Lucas, says he took to the lightsaber quickly, "It's the most fun I've ever had in my life," he swears. "And to be honest, it was heavier than I expected."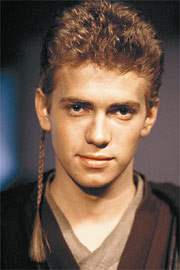 The photo shot above was released by LucasFilm, to give us a glimpse of the man who will one day become Darth Vader.
More On 'Star Wars: Episode II - Attack of the Clones'...


E-Mail This Article » Share your comments on 'Star Wars: Episode II - Attack of the Clones'