Samuel L. Jackson On 'Star Wars: Episode III'
[Thursday, November 13th, 2003]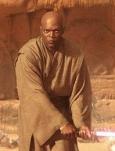 Samuel L. Jackson has speaking to TheForce.net about his role as Mace Windu in Star Wars: Episode III.

He was asked about his experience working on the final Star Wars movie. "Itīs been awesome! It was a lot more than I bargain for when I asked, you know,to be in the films. George Lucas did an enormous kind of favor for me by creating this particular role because I was just asking for being in the film. I was willing kind of being a stormtrooper or whatever, run to a frame or something and say, I was in the film! Thatīs me, right there! He created this really interesting character for me that is an important character that, now, has...I guess, a place the 'Star Wars' lore thatīs pretty prominent."

"I think in Episode III heīs definitely answered a lot of the questions that people had over the years about how this particular thing happened or why this person is this way, you know...who is connected to this and who is connected to that, but I think, heīs also done what a lot of people has asked and probably gone a little further in that people was so angry about the first episode because they thought it was just a kiddy movie and the second episode because is kind of, well...that didnīt answer all the things we need."

"So now, he has put all these things together and tied it up. Itīs very dark and Shakespearean...and adult, and more violent than a "Star Wars" movie used to be. Hopefully theyīll be satisfied with this particular episode."

Episode III is currently in post-production and is expected to hit theaters May 25th 2005.
More On 'Star Wars: Episode III - Revenge of the Sith'...


E-Mail This Article » Share your comments on 'Star Wars: Episode III - Revenge of the Sith'