Anthony Daniels Films Last 'Star Wars' Scene
[Tuesday, September 14th, 2004]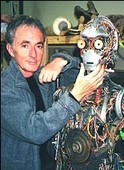 Anthony Daniels, who plays the droid C-3PO in the Star Wars movies, filmed his last scene for Star Wars: Episode III - Revenge of the Sith last week. Daniels says he got emotional at the shoot, "Oh yes, it was with moisture," Daniels told Reuters. "This was very much a fond farewell."

Daniels says the first Star Wars movie, 'Star Wars: A New Hope' is still his favorite, adding that he was less enthusiastic about the prequels. "[George Lucas'] devotion to digital effects overbalanced the films," Daniels said. "Too many digital funky characters become a little bit wearing. The storytelling always gets subsumed."

Daniels last scene as the golden droid involved him walking down a blue-screen corridor talking to "someone who wasn't there." Daniels says he will miss playing the persnickety robot. "He has been a best friend for me," he said. "He is going to live forever in the ether."
More On 'Star Wars: Episode III - Revenge of the Sith'...


E-Mail This Article » Share your comments on 'Star Wars: Episode III - Revenge of the Sith'