Mark Hamill Slams New 'Star Wars' Trilogy
[Friday, November 26th, 2004]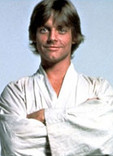 Mark Hamill, who played Luke Skywalker in the original Star Wars movies, says he doesn't like the new Star Wars movies. "To me, they are just too serious. So orderly and almost religious. Like The Ten Commandments," he told TV Movie magazine.

Hamill says the new movies don't have the same fun as the originals. "Having robots fight about who is responsible for a mess they are in sometimes felt like doing Stan and Ollie," he said.

Hamill believes his Star Wars character will always be associated with him. "Luke Skywalker will always and forever be a part of me," he said. "I bet that in the eulogy at my funeral, the first thing they'll mention will be Star Wars."
More On 'Star Wars: Episode III - Revenge of the Sith'...


E-Mail This Article » Share your comments on 'Star Wars: Episode III - Revenge of the Sith'