'Tekken' Movie Adaptation In Early Development
[Monday, September 20th, 2004]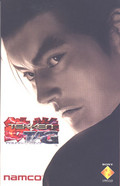 Director Charles Stone III says that his video-game adaptation of 'Tekken' is still in early stages of development. "We got the writers going on it," Stone told Sci-Fi Wire. "But I do want to investigate K-1 fighting—it's out of Japan—and then the ultimate fighting competitions that are sprouting up all over the place. I want to investigate those and just look at the history of the gladiator world through the past."

The movie is based on the best-selling Namco video game, which Stone says will borrow as much from real life as he does from previous martial-arts films. "I'm kind of interested [in] getting back to the whole sports super-conglomerate, Nike thing, and also drugs and steroids and the whole anabolic madness," Stone said. "Right now I'm framing it after sort of Enter the Dragon as a backdrop, but again, more realistic and more accessible. I want it to seem like it can really happen in today's society, despite how grand and superhuman the characters are."

Stone adds that some original characters may be missing from the movie. "We're probably not even using some of the more special-effects-laden characters," Stone said. "We'll see how that all comes together. It's all open right now."

E-Mail This Article » Share your comments on 'Tekken'