Game Adaptation 'Tekken' Goes Into Production
[Tuesday, May 17th, 2005]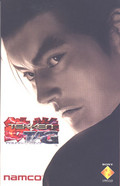 Video game adaptation Tekken goes into production in late fall with a budget of $50 million, according to Variety.

Tekken is based on the videogame licensed from manufacturer Namco. Storyline centers on two childhood friends who enter a worldwide martial arts tournament. As they progress, the pals move toward uncovering a secret that lies within the mysterious Tekken Corp.

Longtime Tekken player Charles Stone (Mr. 3000) will direct.

E-Mail This Article » Share your comments on 'Tekken'