Mariah Carey To Star In Drama 'Tennessee'
[Monday, February 27th, 2006]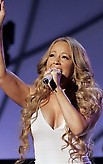 Mariah Carey will star in Tennessee, an indie drama to be directed by Aaron Woodley ("Rhinoceros Eyes"), according to Variety.

Carey plays a waitress who sets off with two brothers to find their estranged father. Their goal: Get dad involved in saving their younger brother, who has leukemia.

While Carey's movie resume is overshadowed by the disappointing 2001 pic "Glitter," Daniels got the idea to cast her after watching her Grammy-winning album "The Emancipation of Mimi" become the biggest selling disc of 2005 and viewing her work in 2002's "WiseGirls."

"I never saw 'Glitter,' but I liked her work in the other film. Because this character is interracial and struggles with all sorts of issues because of that, I thought she was perfect," said Daniels, who also produced "The Woodsman" and made his directing debut on the Helen Mirren-Cuba Gooding Jr. starrer "Shadowboxer."

Pic shoots in New Mexico and Tennessee this spring.

E-Mail This Article » Share your comments on 'Tennessee'