Nick Stahl Confirms 'Terminator 4' No-Show
[Tuesday, February 1st, 2005]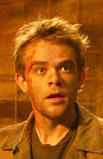 Nick Stahl, who played John Connor in Terminator 3, says that neither he nor co-star Claire Danes will appear in the proposed Terminator 4 movie. "I'm not going to be in T4," Stahl told Sci-Fi Wire. "None of the cast is coming back." Stahl says that the current producer plans may not even include original Terminator star Arnold Schwarzenegger.

"The [T4] story is changing conceptually," Stahl added. "I believe it's a jump to the future, so my character will be quite a bit older. That's all that I know. So I'm not coming back, which is a drag. I don't know much more than that."
More On 'Terminator Salvation'...


E-Mail This Article » Share your comments on 'Terminator Salvation'