'The Tale Of Despereaux' Gets Two Writers
[Monday, February 7th, 2005]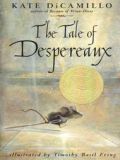 Director Sylvain Chomet (The Triplets of Belleville) has got Will McRobb and Chris Viscardi to write the adaptation of The Tale of Despereaux, according to the Hollywood Reporter.

The book The Tale of Despereaux: Being the Story of a Mouse, a Princess, Some Soup, and a Spool of Thread, by Kate DiCamillo, spent 38 weeks on the New York Times best-seller list and has sold more than 1 million copies. It won the 2004 Newbery Medal for children's literature.

The story follows Despereaux, a tiny mouse with huge ears, who is the bane of his family's existence. He has fallen in love with the young princess who lives in the castle where he resides and, having read of knights and their ladies, vows to "honor her." But his unmouselike behavior gets him banished to the dungeon, where a swarm of rats kill whoever falls into their clutches.
More On 'The Tale of Despereaux'...


E-Mail This Article » Share your comments on 'The Tale of Despereaux'