Dustin Hoffman In 'The Tale Of Despereaux'
[Wednesday, September 13th, 2006]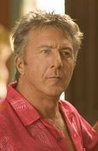 Dustin Hoffman, Kevin Kline and Justin Long are to lend their voices to The Tale of Despereaux, according to the Hollywood Reporter.

Directed by Mike Johnson, the movie is based on Kate DiCamillo's novel, a Newbery Medal-winner for kids literature, "Despereaux" is the tale of three misfits -- a banished mouse, a rat who likes the light and a young servant girl with cauliflower ears -- whose fates are intertwined with a princess.

Long will voice Despereaux, the noble mouse with oversized ears, and Hoffman will portray the goodhearted rat that thinks it's human and likes the light. Kline will portray the king's royal cook who is banished.
More On 'The Tale of Despereaux'...


E-Mail This Article » Share your comments on 'The Tale of Despereaux'