'Texas Chainsaw Massacre' Remake Gets Cast
[Wednesday, June 19th, 2002]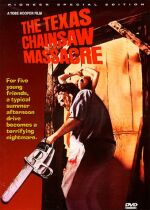 Jessica Biel, Eric Balfour, Jonathan Tucker, Erica Leerhsen and Mike Vogel are set to star in the remake of "The Texas Chainsaw Massacre," reports The Hollywood Reporter.

The reconceptualized version of the classic horror tale is being directed by Marcus Nispel from a Scott Kosar script.

Platinum Dunes founders Michael Bay, Andrew Form and Brad Fuller are producing along with Next Entertainment's Michael Fliess.

The original 1974 "Massacre" is about five young adults touring rural Texas who are slowly whittled away by the chainsaw-wielding Leatherface.

The updated version is expected to be less gory than the original, focusing more on the thriller aspects of the story.

The remake begins shooting in Austin, Texas, in July.
More On 'The Texas Chainsaw Massacre'...


E-Mail This Article » Share your comments on 'The Texas Chainsaw Massacre'