Kate Beckinsale Replaces Parker In 'Vacancy'
[Tuesday, September 12th, 2006]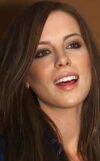 Kate Beckinsale is to replace Sarah Jessica Parker in the Screen Gems horror thriller Vacancy, says the Hollywood Reporter.

The feature, helmed by Nimrod Antal, follows a couple who find videocams in their motel room, then realize they are being taped for a snuff film. The couple will be played by Luke Wilson and Kate Beckinsale.

Frank Whaley has been cast as the motel thriller's anti-hero. The project is based on a script by Mark L. Smith.

E-Mail This Article » Share your comments on 'Vacancy'