Hugh Jackman Takes 'Van Helsing' To Lead Role
[Friday, June 14th, 2002]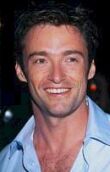 Hugh Jackman is in negotiations to star in the title role of Universal Pictures' action-adventure feature "Van Helsing" for writer-director Stephen Sommers, reports Variety.

Sommers' screenplay, set in the late 19th century, finds Bram Stoker's fabled monster hunter Van Helsing summoned to a distant Eastern European land to vanquish evil. The project will feature classic Universal monsters, including Dracula, Frankenstein and the Wolf Man, as reimagined by Sommers.

"Hugh was my only choice," Sommers said. "I'm very glad he liked the character in the script because I had no backup. I was looking for a man, not a boy -- a guy who had some weight about him. Almost more importantly, Hugh's a good guy, and these movies are so hard to make, I only want to work with nice people."

The Van Helsing character made his first onscreen appearance in the 1931 Universal film "Dracula," in which he was played by Edward Van Sloan, who had created the role on Broadway opposite Bela Lugosi. Van Sloan reprised the role in the 1936 sequel, "Dracula's Daughter." The character since has appeared in hundreds of motion pictures and theatrical adaptations of Stoker's novel, but Sommers' project marks the first time that Van Helsing has been the central character.

A December 1 start date is being planned, with filming set for locations in Paris, Rome and Prague and soundstages in Los Angeles.

E-Mail This Article » Share your comments on 'Van Helsing'