Kate Beckinsale Takes Bite Into 'Van Helsing'
[Monday, November 25th, 2002]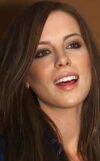 Kate Beckinsale

Kate Beckinsale ("Pearl Harbor") has been cast opposite Hugh Jackman in the gothic action extravaganza "Van Helsing," reports Variety.

The Universal Pictures project pits Jackman, in the role of vampire hunter Dr. Van Helsing, against three creatures from the studio's vintage horror years -- Dracula, Frankenstein and the Wolf Man. The story reimagines the studio's monsters in a late Victorian drama, taking Dr. Van Helsing to Eastern Europe in a quest to vanquish the creatures.

Beckinsale will play Anna, daughter of a family committed to the pursuit of Dracula.

Stephen Sommers will direct from his own script. Production starts in January, and the studio has already staked out a release date of May 21, 2004.

E-Mail This Article » Share your comments on 'Van Helsing'