Kate Beckinsale Talks 'Van Helsing' Stunts
[Tuesday, February 3rd, 2004]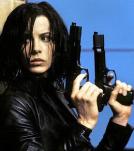 Kate Beckinsale, who plays Anna Valerious in the upcoming Van Helsing, says she had to preform a lot of stunts for the role and was also accidentally set on fire. "I was standing a bit close to a sparking, melted metal thing," Beckinsale told SciFi-Wire. "Sadly it [wasn't] a wig. It may be by the end of the movie."

"I didn't know it was happening," she said. "It was only a tiny bit. But, yes, I suddenly found this big burly camera assistant rushing at me. I thought, 'My God, what did I do?' And he just beat me on the back."

Beckinsale, who plays a gypsy princess in the movie, says some of her stunts included being pulled by wires in the air. "It was so fun," she said. "It was really fun. Some of [the stunts] aren't fun. The tree thing wasn't that fun, because I was upside down in it, and I have to kind of hook my legs around the wire. And for some reason being outside feels much more dangerous than being on the set. I don't know why, it just does. And just as we were about to shoot, my crucifix broke and fell 30 feet, and I thought, 'Oh God, it's high.' I really hated that. The other one was really fun. We weren't really high up. It was like just being on a really big, fun swing."

E-Mail This Article » Share your comments on 'Van Helsing'