Richard Roxburgh Talks 'Van Helsing' Dracula
[Monday, May 3rd, 2004]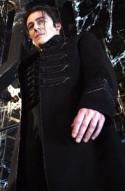 Richard Roxburgh, who plays Count Dracula in Universal's upcoming Van Helsing, says he worked on finding out about his role. "There were some human qualities I wanted to find," Roxburgh told Sci-Fi Wire. "It was a matter of trying to find things that I could to tap into, that I understood, that made sense to me, like the nature of frustration at finding yourself in a position of living forever."

Roxburgh revealed he used Bela Lugosi's classic portrayal of Dracula for part of his role, because he says he "absolutely loved Legosi as The Count," and also "because [writer-director] Steve [Sommers] was interested in pursuing a sense of the old Universal films."

Roxburgh says he tried to avoid verging his character into camp. "It's a fine line, and Steve's films tread that line, always," he said. "It's fun to experiment with it. But I always felt that I wanted to anchor the character in the sense of an actual human being, a person who feels that frustration and is terribly tired of the situation that he finds himself in, three wonderful brides notwithstanding."

"One thing that's always interesting to bear in mind is that, in the great history of [Dracula movies], I think almost without exception, their releases have been surrounded by controversy and at times disdain. Certainly Bela Legosi's Count Dracula, at the time, was regarded as essentially a kind of B-movie piece of junk, whereas now it has real luster and appeal to people." Van Helsing opens May 7.

E-Mail This Article » Share your comments on 'Van Helsing'