Robert Girardis 'Vaporetto 13' To Get Adapted
[Friday, July 7th, 2006]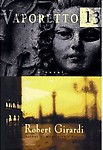 Italian author Robert Girardi's Venetian mystery novel Vaporetto 13 is to be adapated for the big screen, according to Variety.

The movie is set to begin shooting in Venice in late October, will be directed by Gregor von Bismarck.

Storyline revolves around an American industrial diver who has a strange premonition that comes true when he discovers a submerged church in Venice that no one knows about. Church holds a dangerous secret that brings him into contact with an otherworldly woman.

E-Mail This Article » Share your comments on 'Vaporetto 13'