James Purefoy Joins Portman In 'V For Vendetta'
[Friday, February 18th, 2005]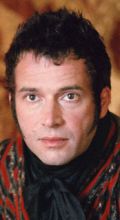 James Purefoy (Vanity Fair) is to star opposite Natalie Portman in V for Vendetta, according to the Hollywood Reporter.

V for Vendetta is an adaptation of a 1980s Alan Moore comic book that Joel Silver and the Wachowski brothers are producing for Warner Bros. Pictures.

Set in an alternate future in which Great Britain is a fascist state, a freedom fighter known as V (Purefoy) uses terrorist tactics to fight the oppressive society. He rescues a young woman (Portman) from the secret police, and she becomes his unlikely ally.

Andy and Larry Wachowski wrote the screenplay, which is based on the 10-issue comic book by Moore and illustrator David Lloyd. The miniseries was part of the wave of comics that included Frank Miller's "Dark Knight Returns" and Moore's "Watchmen" and which heralded a maturing of the genre.

James McTeigue, who was the first assistant director on the Wachowskis' "Matrix" trilogy, is directing.

Filming is scheduled to take place in Berlin beginning in early March for a fall release.

E-Mail This Article » Share your comments on 'V for Vendetta'