Wolverine Bulks Up For Sequel
[Friday, December 28th, 2001]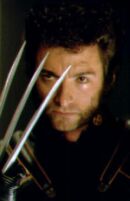 Hugh Jackman talks about how he has to bulk up for his starring role as Wolverine in the sequel to X-Men, 'X2'.

The LA Times interviewed him in a limo on the way to The Tonight Show:

Though Jackman looks muscular on screen, in person he's as skinny as a beanpole. So he's been trying to bulk up for "X-Men II," which is set to start production in April. As the limo departs the Four Seasons, he starts chomping on a rather nasty-looking protein bar.
"You see, you lose a lot of weight doing the part," says Jackman. "So I want to get bigger than I need to be because it will be impossible to put it on [once the movie starts]. Because I am tall, it works against me. In the meantime, I am playing a New York cop in this movie called 'Pride and Glory.' We start filming any minute now. It's with Ed Harris, [Robert] Duvall and Anthony LaPaglia."

All of this good fortune in Hollywood has taken Jackman by surprise. Just two years ago, he was completing his successful run in the Trevor Nunn production of "Oklahoma!," his third musical in as many years, having also starred on the Sydney stage as Gaston in "Beauty and the Beast" and as Joe Gillis in "Sunset Blvd."

"I totally felt [during "Oklahoma!"] like it can't get any better this," he says. "On some level that production will be one of the highlights of my career. I don't remember ever having dreams of [doing movies in Hollywood]. It comes as a real pleasant surprise.

Please visit the above link for a more detailed interview.

E-Mail This Article » Share your comments on 'X-Men 2: X2'