First Picture From Set Of 'X-Men 2: X²'
[Friday, July 26th, 2002]
Just a week ago the "X-Men 2: X²" website went live, and wanted people to register for updates on the movie, and the first update has arrived with a picture from the set.

For those of you who havent registered over at www.x-men-the-movie.com here is the newsletter and the picture:

Greetings to all X-Fans! John Smith here. I am working behind the scenes on the production of X-Men 2. I'll be sending production updates and cool pics regularly (surely with no spoilers!) direct from the amazing sets of X-Men 2 in Vancouver, BC.

We began shooting on Vancouver Island on June 17th, and here is a picture of director Bryan Singer directing Hugh Jackman as Logan/Wolverine with a few claw pointers for later in the movie. This shot was taken the first day cameras began rolling.

The X-Men are all back for this highly anticipated sequel which is sure to blow your minds with cool new characters and stunning action sequences. We are aiming to please the X-Men fans above all else.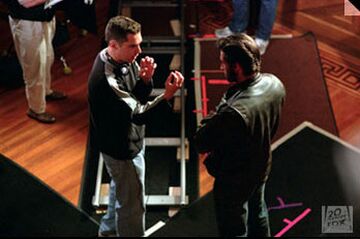 Bryan Singer (Director) and Hugh Jackman as Wolverine

E-Mail This Article » Share your comments on 'X-Men 2: X2'