Brian Cox To Play Willam Stryker In X²
[Saturday, August 17th, 2002]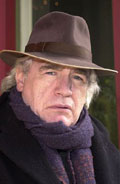 Brian Cox has signed on to play the villain William Stryker in "X-Men 2", according to Hollywood Reporter.

Production is under way on the project with Ralph Winter, Lauren Shuler Donner and Avi Arad producing. Cox joins returning characters Professor X (Patrick Stewart), Wolverine (Hugh Jackman), Storm (Halle Berry), Magneto (Ian McKellen), Rogue (Anna Paquin), Cyclops (James Marsden), Dr. Grey (Famke Janssen) and Mystique (Rebecca Romijn-Stamos).

New additions to the sequel roster include Kelly Hu, who is playing the villainous Anne; Aaron Stanford as Pyro, a young mutant/student; and Alan Cumming as Nightcrawler, a new superhero.

E-Mail This Article » Share your comments on 'X-Men 2: X2'