More News On 'X-Men 3' And Spin-Offs
[Tuesday, December 21st, 2004]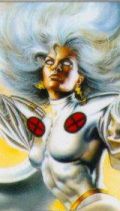 A X-Men fan site has got some news, said to be from a 20th Century Fox representative on the state of the X-Men franchise.

The site XMF, have three main things that they reported.

1). There have been rumors amongst the fandom that WOLVERINE may be filmed before X3. FALSE! Finishing the X-MEN trilogy is the top priority of 20th Century Fox, but spin-off films are being developed at the same time. As most know, WOLVERINE and MAGNETO are also in early development.

2). By the producers and studio request, the weather controlling mutant known as Storm (Ororo Munroe) is currently being included in the X3 film screenplay on a provisional basis. The role is being written with the idea that it can easily be switched out for another character under the circumstances that actress, Halle Berry cannot return. Should the actress return, the role will likely be expanded to that equal of the other main cast members, in future drafts of the screenplay. It is also possible that the role could possibly remain small for a cameo appearance. Or could the role be recast? This is still being worked out, and won't conjeal until main cast members are asked to return.

3). The studio is set on getting X3 out for a 2006 release. Even though Avi Arad or Marvel Enterprises has listed a May release date, the month of May has been put in question, so changes in release date are a strong possibility. It all depends on the director and shooting locations. A Winter 2006 release is not even being thought about, so nix that idea.
More On 'X-Men 3: The Last Stand'...


E-Mail This Article » Share your comments on 'X-Men 3: The Last Stand'