Williams Sisters Competing For 'X-Men 3' Role
[Thursday, July 7th, 2005]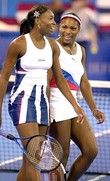 Tennis stars Venus and Serena Williams are said to be competing for a role in X-Men 3. The sporting sisters are thought to be both wanting to play the role of a bisexual hooker in the film.

"Brett feels either of the girls would be fantastic for the role, which is a superhero who oozes sex appeal," a source told The Sun. "Her great power is the ability to seduce anyone."
More On 'X-Men 3: The Last Stand'...


E-Mail This Article » Share your comments on 'X-Men 3: The Last Stand'