Catherine Bell Joins Carrey In 'Bruce Almighty'
[Tuesday, September 10th, 2002]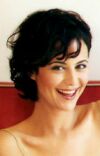 Catherine Bell

Catherine Bell ("J.A.G.") is to be joining Jim Carrey, Jennifer Aniston and Morgan Freeman in Universal Pictures' spiritual comedy "Bruce Almighty," reports The Hollywood Reporter.

Shooting is under way on the Tom Shadyac-directed project, which stars Carrey as Bruce Nolan, a New York television reporter who is discontented with nearly everything in life despite his popularity and the love of his girlfriend, Grace (Aniston). At the end of the worst day of his life, Bruce rages against God -- and God (Freeman) responds by handing over his job to Bruce.

Bell will star as Carrey's co-worker, a fellow newscaster.

E-Mail This Article » Share your comments on 'Bruce Almighty'