'Die Hard 4' To Be 'Live Free Or Die Hard'
[Thursday, August 3rd, 2006]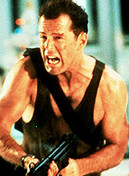 20th Century Fox has renamed the fourth installment of the Die Hard series, Live Free or Die Hard, says the Hollywood Reporter.

Bruce Willis will reprise his role as John McClane. The story centers on an attack on the U.S.' computer infrastructure that begins to shut the country down. The mysterious figure behind the scheme has figured out every digital angle but never counts on an old-fashioned, "analog" McClane.

The movie is slated for a June 29th release, in direct competition with Disney/Pixar's Ratatouille.
More On 'Live Free or Die Hard'...


E-Mail This Article » Share your comments on 'Live Free or Die Hard'