Jake Gyllenhaal In 'The Green Hornet' Talks
[Thursday, March 18th, 2004]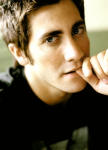 Kevin Smith has met actor Jake Gyllenhaal about taking the title role in Miramax's Green Hornet, according to Hollywood Reporter sources.

Smith is said to be interested in casting Gyllenhaal as the crime-fighting superhero who also doubles as Daily Sentinel publisher Britt Reid.

Although other names were still being considered, Gyllenhaal reportedly appears to fit Smith's current conception of the character.

Gyllenhaal can be next seen in The Day After Tomorrow.

E-Mail This Article » Share your comments on 'The Green Hornet'