Pitt To Replace Cruise In 'Mission: Impossible 4'
[Tuesday, September 19th, 2006]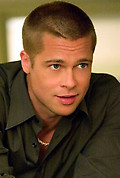 Brad Pitt is said to have replaced Tom Cruise in Mission: Impossible 4, according to the Daily Mail.

It is a move that will make Pitt the highest-paid actor in Hollywood history.

An insider told London Lite: "MI:IV will not include Cruise's character, agent Ethan Hunt.

They're considering a brief mention, saying Hunt retired to live a safe life with his new wife.

"They're set on Brad taking over as a gutsy new head operative who puts together his own unique team of specialists."

Sources say Paramount is prepared to do whatever it takes to get Pitt on board, and is even willing to make him the highest-paid movie star in history, with a salary topping £21 million.
More On 'Mission: Impossible - Ghost Protocol'...


E-Mail This Article » Share your comments on 'Mission: Impossible - Ghost Protocol'