Keith Richards Joins 'Pirates Of The Caribbean 2'
[Thursday, October 21st, 2004]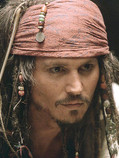 Rolling Stones guitarist Keith Richards has joined the cast of Pirates Of The Caribbean 2, according to MIRB.

Johnny Depp is said to have personally convinced Richards to come on board the sequel, who is thought to have been the inspiration behind Depp's portrayal of Captain Jack Sparrow. Richards will play Sparrow's father in the upcoming sequels, which are to be shot simultaneously.

Johnny Depp, Orlando Bloom, Keira Knightley, Mackenzie Crook and Geoffrey Rush are all reportedly returning for the sequels, which is being helmed by director Gore Verbinski.

Richards is said to have already had a costume fitting in preparation for filming which is due to start at the end of February.
More On 'Pirates of the Caribbean: Dead Man's Chest'...


E-Mail This Article » Share your comments on 'Pirates of the Caribbean: Dead Man's Chest'