Orlando Bloom Starts Trouble In 'Troy'
[Thursday, November 14th, 2002]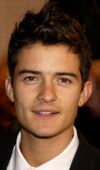 Orlando Bloom

Orlando Bloom will star in "Troy," the adaptation of "The Illiad" being directed by Wolfgang Petersen, reports Variety.

Bloom will play the role of Paris, the character who instigates the Trojan War that triggers an epic battle between Achilles (Brad Pitt) and Hector (Eric Bana).

The Warner Bros. project will begin filming in London, Malta and Morocco next year for a 2004 release.

E-Mail This Article » Share your comments on 'Troy'