Christian Bale Talks On 'Batman Begins'
[Wednesday, January 5th, 2005]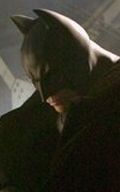 Christian Bale talked to Sci Fi Wire about his role as Batman in the new Batman Begins on how he had to bulk up quickly to play the caped crusader after dropping 60 pounds to star in the independent feature film The Machinist.

"I finished The Machinist in July [2003], and then we started filming on this at the end of February [2004]," Bale said in an interview during a break in filming in England last September. "I did have a lot of work to do. Just because, … you know, it's one of those parts that you have to be in decent shape for. Visually, but also ... just dealing with being in that suit for 12 hours a day."

Bale not only had to regain the 60 pounds he lost playing a sleep-deprived factory worker in The Machinist, he also had to add weight to his normal 180-pound frame to play the muscular DC Comics superhero. "[I was] eating, just eating like crazy, just trying to put on pounds and pounds and pounds," Bale said. "I actually went … way overboard. By the time I arrived in England, you know, [director] Chris [Nolan] kind of looked at me in shock and kind of went, 'God, you're like some grizzly bear.' Because I arrived with long hair and a beard and stuff , and I was, like, filling up the hallway."

Bale plays Batman at the beginning of his journey. "It's the early days," Bale said. "So you do see him as a very young boy, and you see him at , like, age 22, and then you see him again at like age 29-30. ... He was very much bent on enacting revenge, of maintaining a promise that he makes to his parents. "

E-Mail This Article » Share your comments on 'Batman Begins'